Have you ever been on a jumping holiday? I was bamboozled into one about 12 years ago! It's a simple idea. You choose from a selection that includes Bungy jumping, horse jumping or straight forward jumping. There's no way I would ever consider Bungy jumping and I don't think I could handle horse jumping. So we booked the straight forward jumping.
I was a little dubious at first as to what exactly I was paying for. It was advertised as a Welsh cottage in the middle of nowhere and had the tagline 'ideal for jumping holidays'. I booked it for a week at the beginning of August and that was that.
The Letter of Doom
About a week before we left I received a list from the holiday company of suitable clothing to bring with us. I've still got the letter which is shown below.
Dear Mr Jones,
Thank you for booking your 2006 Jumping Holiday with us and we look forward to meeting you and your family on August 3rd. We advise that suitable clothing is worn during your stay. We recommend very loose baggy short trousers, oversize t-shirts or your wife's blouse! 
Please arrive by 2:00pm and vacate your cottage on your day of departure by 10:00am.
Yours sincerely
Mr Ivor Bouncer.
The tone of the letter sounds very authoritative.  I was beginning to wonder what sort of vacation I'd booked! We arrived at our delightful little cottage at precisely 2:00pm. Me, Wifey, our youngest daughter and her friend. It really was in the middle of nowhere.
At 3:00pm there was a loud knocking at the front door and it turns out to be our 'Jumping Guide'. A middle aged battle axe by the name of Mrs Crump. She could eat Hells Angels for breakfast. She dished out instructions in the fashion of a Sergeant Major, shouting orders that we were to meet at the top of the cliff railway in Aberystwyth at 5:00pm prompt!! I was losing the will to live.
This was supposed to be a holiday not a prison sentence. We arrived at the railway entrance at 5:00pm and sure enough, Mrs Crump was waiting. There was just her and us.
Jump Jump and Jump More
That must say something how popular this holiday was. Without further ado she had us all jumping. Boy, did I feel stupid. The girls seemed to enjoy it. I was completely knackered after 10 minutes. All in all we had to do about 30 minutes of jumping. The nearby cafe was full of people laughing their faces off at us.
As soon as we had finished I went straight back to my car and locked myself in. The girls followed about 20 minutes later. They tried cheering me up saying things like, 'it's not so bad, in fact it's great excercise, blah, blah, blah…….' We got back to the cottage to find a note pinned to the front door. 'Meet at The Beacon in Aberystwyth tomorrow morning at 9:00am.' Signed by Mrs Crump. Next morning we were there and so was Mrs Crump. She started by singling me out and getting me to do a solo jump for 25 minutes which is in the photo. All the time she is shouting 'KEEP SMILING!'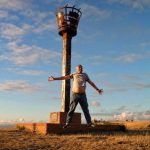 This was how the holiday continued. Instructions pinned to our cottage door telling us where to meet the next day so we could go jumping. The surly old curmudgeon even had us outside the cottage one night at around 11:00pm to 'enjoy' our jumping holiday. Never again! To think I paid for that.
If anyone ever suggests you go on one of these holidays, tell them to go and jump.